The Project management unit of energy efficiency improvement in commercial and high rise residential buildings in Vietnam (EECB Project) held a consultation workshop on established specific energy consumption profiles and energy benchmark for commercial high-rise buildings in Viet Nam on 24 October 2019 in Hanoi.
EECB Project's Deputy Director Nguyễn Công Thịnh gave an opening speech
The workshop was chaired by Mr Nguyen Cong Thinh, Deputy Director of Science, Technology and Environment Department with representatives from UNDP, GIZ as well as national and international experts in building and energy efficiency sector.
EECB Project Manager Hoang Thi Kim Cuc introduced about the study
According to EECB Project Manager Hoang Thi Kim Cuc, one of project's tasks is to support Ministry of Construction to develop Specific Energy Consumption (SEC) profiles, energy benchmarking and Monitoring and Verification (M&V) system on high rise buildings and develop energy efficiency labelling system for commercial and high rise residential buildings in Vietnam.

Energy benchmarking system provides values presenting common building types to evaluate current building energy performance. Energy benchmarking is a method to compare the energy performance of a building with other similar buildings or in the same building typology. Specific energy consumption is used as a tool to evaluate building energy efficiency in a specific time and climate zone ((kWh/m2).
International consultant presented study results at the workshop
Within EECB Project's activities, international and national consultants have collected data of buildings including public offices, private offices, malls, two and three star hotels, four and five star hotels (15 building per typology) in cities representing 3 climate zones (Hanoi, Da Nang and Ho Chi Minh city). Data have been processed and normalized by statistical analysis and the regression analyis of energy consumption to develop SEC profiles (kWh/ m2) and energy benchmark for each building typology.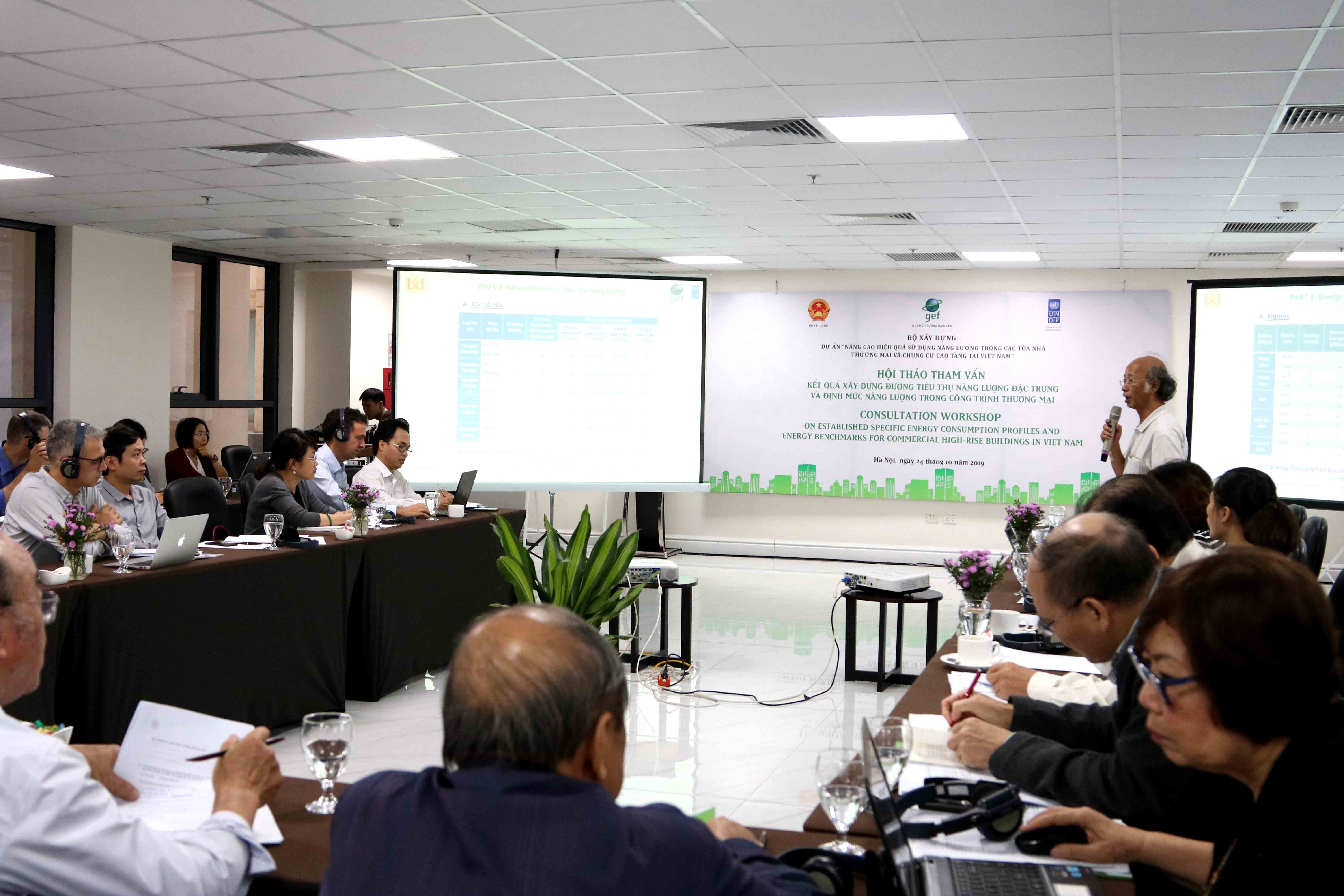 Participants at the workshop
Commenting consultant's report, participants highly applauded consultant effort in completing their difficult task that required a lot of time and collective effort.

According to Professor Trần Ngọc Chấn – Vietnam Association of Civil Engineering Environment, this initial result is to test methodology, as the sample size is not big enough to present building typology and climate zone. The project needs to conduct additional research on other building typology and climate zones.

Some experts at the workshop said that energy benchmark should be rated at low – middle and high levels and survey and calculation should only be conducted to buildings that its gross floor area is over 2500 m2 to comply with the national technical regulation on energy efficiency in buildings QCVN 09:2017/BXD .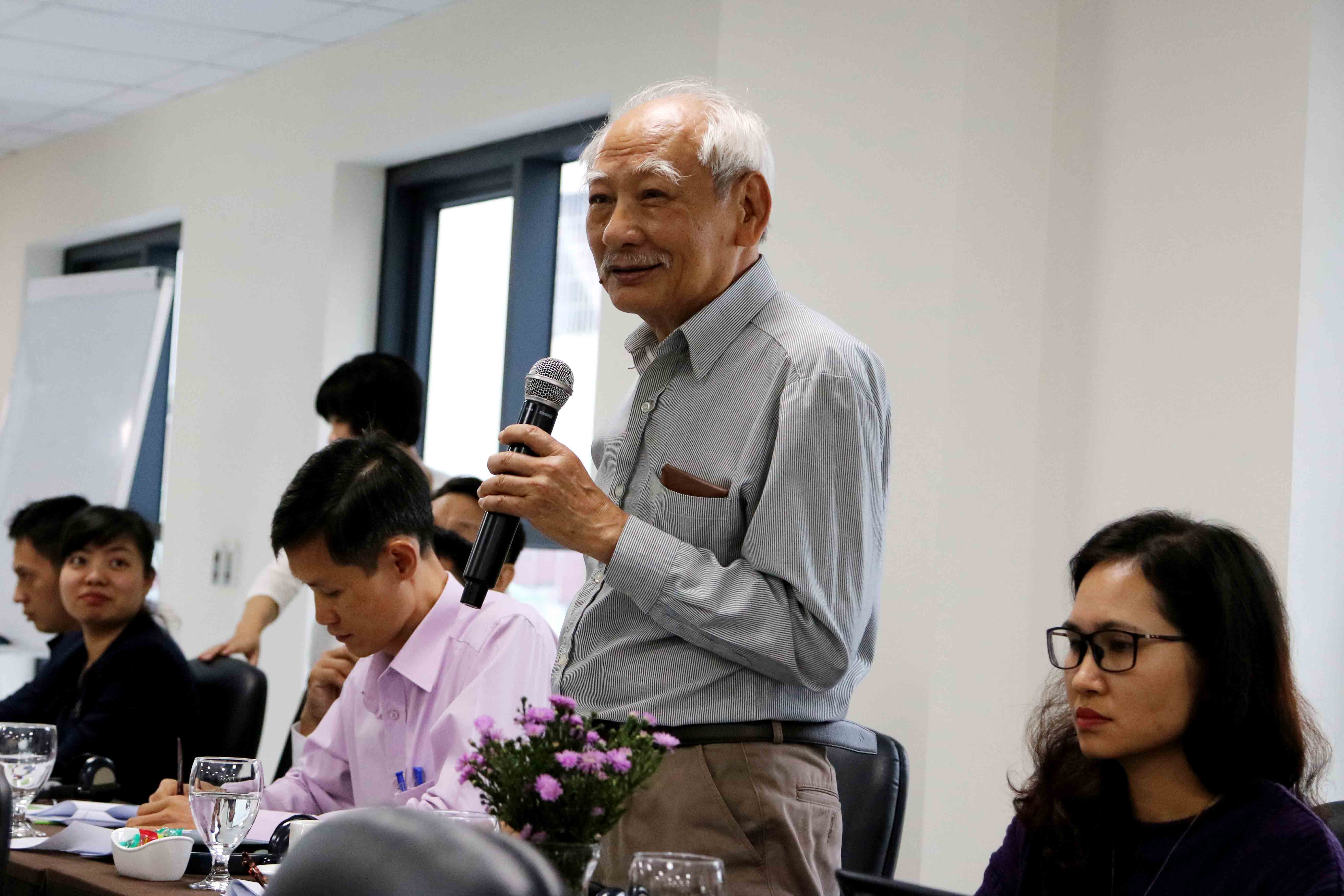 Professor. Trần Ngọc Chấn commented at the workshop
GIZ's expert commented at the workshop
In conclusion, EECB Project's Deputy Director Nguyen Cong Thinh highly appreciated consultant team' effort and emphasized that this is a first study to develop specific energy consumption and energy benchmark in commercial and high rise residential buildings, therefore, the contribution of expert is valuable and necessary.

Mr Thinh expressed his thanks to experts' contribution at the workshop and requested consultant team to further study, receive and adjust results to promptly submit the Ministry of Construction for announcement.
Nguyễn Hằng